Welcome to the Thulamela Local Municipality Website
---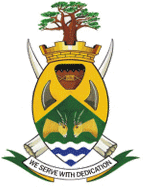 Message by Mayor
On behalf of the residents of Thulamela Municipality I wish to extend my warm welcome to you for taking your time to visit our website.

In Thulamela Municipality our vision is for our area to become a tourist destination and a productive agriculture area. We offer the best of Urban and Rural life with green fertile land scape and lively local communities.

As a grand tourist destination, it will give you an authentic Thulamela experience with beautiful mountain, Tea estate, timber plantation, tropical fruits, sacred lakes and forest that depict our rich cultural history. Read More...
---
Current News
WARD COMMITTEE MEMBERS ARE ALSO CIVIL SERVANT OF GOVERNMENT

Thulamela Local Municipality hosted the first Annual Ward Committee Conference at the Indoor Sports Centre with the aim of strengthening the relationship between Ward committees, Read More...

---
CONSTRUCTION OF TSHIFIFI TO DZINGAHE ROAD IS IN GOOD PROGRESS

The Mayor of Thulamela Local Municipality Avhashoni Tshifhango with Executive members of Council visited Tshififi /Dzingahe access road project as a way of monitoring progress made during construction. Read More...

---
THULAMELA MUNICIPALITY STAKEHOLDERS GATHERED FOR IDP REP FORUM.

Thulamela Municipality Mayor Councillor Avhashoni Tshifhango led the Integrated Development Planning Representative Forum (IDP) for 2016/2017 financial year as part of project implementation processes at Thohoyandou Indoor Sports Centre on Wednesday. Read More...

---
THULAMELA LAUNCHES DISASTER MANAGEMENT ADVISORY FORUM.

Representatives from different stakeholders gathered at Thohoyandou Indoor Sports Centre to re-launch Disaster Advisory committee in the next five years. Read More...

---
TRADITIONAL LEADERS WORKING TOGETHER WITH THE MUNICIPALITY.

The newly elected Mayor of Thulamela Municipality Councillor Avhashoni Tshifhango appealed to traditional leaders to work with Government for the benefit of the people. Read More...

---
Mayor Tshifhango Chairs Pastors Forum

In an effort to strengthen stakeholder's relations between Thulamela Municipality and the local churches, Cllr Tshifhango, Mayor of Thulamela Local Municipality hosted more than 200 pastors from local churches during the local Pastors Forum on the 8th November 2016. Read More...

---
Imbizo Focus week at Itsani Village (Tshasahulu)

Thulamela Municipality hosted a Mayoral Public participation at Tshisahulu village of Itsani under ward 37 on 10th October 2016. Read More...

---
MAYOR AVHASHONI TSHIFHANGO OFFICIALLY SWORN IN

Univen stadium was abuzz with community members, guests, media and politicians during Vhembe Mayoral Inauguaration ceremony. The ceremony involved Mayors from Musina, Makhado, LIM345, Thulamela and Vhembe district as they took their oath of office under the watchful eye of a magistrate. The streets leading to Univen was awash with buses escorting guests and crowds walking to the stadium.

---
MAYOR TSHIFHANGO SUPPORTS EDUCATIONAL EXCELLENCE

In an effort to motivate and support learners towards 2016 final examination, Mayor of Thulamela Municipality accompanied by EXCO, visited several schools across Thulamela area. The visit was directed at best performing schools to enocurage them to continue with their level of matric performance and non performing schools to emulate the performing ones. In his talk he also touched on life skills related behaviour that contributes to learners' success during and after exams.

---
THULAMELA HERITAGE AWARENESS COMPETITION

In an effort to promote heritage sites, Thulamela Municipality partnered with Kruger SANPARKS in a competition for learners. The competition focused on Bako la Tshavhadinda and Thulamela heritage site respectively. Learners from selected schools were adjudicated based on stories and poems they created on the two heritage sites.

---
MAYOR TSHIFHANGO DRIVES SMME DEVELOPMENT

The Mayor of Thulamela, Cllr Tshifhango AS officially opened Thulamela Feel Good market on 09th September at the Thulamela Information Centre. The pop up market is a platform where local businesses are given a space to showcase and promote their businesses as a way to realise the idea of local economic development. The Mayor emphasised that in line with Thulamela vision2030 and the mission, we are encouraged to develop, support and promote small enterprises throughout Thulamela, ensuring their growth and sustainability in co–ordination and partnership with various role players.

---
MAYOR TSHIFHANGO TALKS COMMUNICATION WITH COMMUNICATORS

On friday the 30th of September, Cllr Tshifhango AS, Mayor of Thulamela Municipality gave an encouraging talk at the Local Government Communicators Forum held at Thulamela Boardroom. He stressed the importance of communication in government as the only way community understands what government is doing and what residents can expect from their municipality

---
THULAMELA MAYOR CLLR GRACE MAHOSI VISIT MAUNGANI ROAD PROJECT 2

Roads projects implemented in the Municipality continue to contribute towards creation jobs for the poor.
This was said by Thulamela Local Mayor Grace Mahosi last week as she continues to visit road projects that are being implemented and to check on progress made at Maungani Village. Read More...

---
Thulamela Municipality Embarked on a Back to School Campaign

Matriculants around Thulamela Municipality started their academic year on a high note, after the Mayor of Thulamela Cllr Grace Mahosi together with her Executive members of Council embarked on a Back to School Campaign on the first week for 2016 academic year. Read More...

---
Major Boosts for Traffic Flow in Thulamela

Thulamela Municipality Mayor Councillor Grace Mahosi accompanied by Executive committee members officially opened the upgraded road at Sibasa in order to control traffic flow during the festive season. Read More...

---
A Mother of Three Children Finally Received Her Identity Document

At long last Esther Chauke from Nkovani village in Malamulele area finally received identity document following an intervention from Thulamela Municipality through Mayoral public participation programme held on Friday. Read More...

---
Thulamela Municipality Honour its Senior Citizens

Thulamela Municipality hosted Senior citizens day on Friday last week at Malamulele Stadium. October month is dedicated for elderly people in South Africa and various activities were being conducted throughout the country. The objective of the event was to create awareness and educate community member`s especially elderly people about their rights. Read More...

---
Thulamela Municipality Meets Learners

Thulamela Mayor Councillor Grace Mahosi accompanied by Exco members and delegates from Department of Education visited Silemale Secondary School at Khubvi village outside Thohoyandou as part of supporting, encouraging and wishing learners good luck for their examinations which are commencing next week on Monday. Read More...

---
Mayor Mahosi's 1st Public Participation: A Huge Success

Dzwerani; the village in the South Eastern part of Thohoyandou will always be remembered as the area where Cllr. Grace Mahosi conducted her first ever Public Participation programme as a Mayor of the Thulamela Municipality, following her election to head the Municipality as the Mayor; Mahosi and a host of her councilors and member of the administration staff visited Dzwerani to listen to community dwellers as they voice out their service delivery related concerns. Read More...

---
Quick Links
Supplier's Box

Contact Details
Supply Chain Policy
Supplier Registration Form