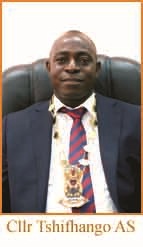 On behalf of the residence of Thulamela Municipality I wish to extend my warm welcome to you for taking your time to visit our website.

In Thulamela Municipality our vision is for our area to become a tourist destination and a productive agriculture area. We offer the best of Urban and Rural life with green fertile land scape and lively local communities.

As a grand tourist destination, it will give you an authentic Thulamela experience with beautiful mountain, Tea estate, timber plantation, tropical fruits, sacred lakes and forest that depict our rich cultural history.

This is further complemented by presence of academic institution, National parks and historic site. Take advantage of rich tourism resources, boasting markets prospects, development potential, rich natural beauty, culture and wildlife.

Come and experience Thulamela spectacular mountains scenery, beautiful landscape, its story's, its people and its culture come and discover what makes a destination distinctive authentic and memorable.

Come work with us, invest, live with us, welcome home to Thulamela Municipality, We are committed to making Thulamela Municipality an even better place to live and work.